Googled:
https://romshero.com/roms/sinclair-zx81/gm-test-19xx
Loading stay in fast mode… on a black screen.

Xavier
Couple of nice games attached from one of the tapes, looks like a french collection 'Jeux 16K'. Well I can work out the Saturn Lander, but ZXSpace I'm not sure what I'm doing

Attachments

(6.82 KiB) Downloaded 100 times

(2.21 KiB) Downloaded 97 times
Thanks. Any info on who made GMSave would be very useful to know, e.g. was it a purchased program or typed in from a magazine.
Program 1: ZXDB is likely to be the disassembler from Bug-Byte:
http://www.zx81stuff.org.uk/zx81/tape/ZXDB
Program 2: From the analysis XavSnap has done this is Breakout from CDS:
http://www.zx81stuff.org.uk/zx81/tape/Breakout
Although it would be possible to recover the programs from the wav file with some effort, there is little point for programs that are readily available elsewhere.
Nice !

Xavier
Program 1: ZXDB is likely to be the disassembler from Bug-Byte:

Yes, it's the same code.
Xavier
Hi Will,
I'm interested in "Escadrille" a "Micro-Systèmes magazine" #36 listing…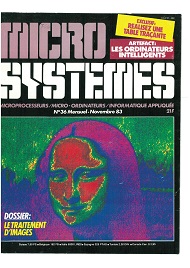 I typed it, but my release seem bugged.
Thanks Will,
[edit] "Editeur de texte" is from "Micro Systèmes #27" too… i don't know for other programs. May be...
Xavier
Erratum in the #40: speed 0=slow, 9=fast
Xavier
Pac-Man (MAGPAC) Micro-Systèmes #28 ?

Xavier
Hi Xavier,
I have been trying to get a better capture of the tape 'Jeux 16k', which seems to be a collection of software that my Dad traded with a 'pen pal' from France. Some of these are pirated copies of mainstream releases but some I kind find any info about or copies online. Unfortunately there are audio drop-outs recorded into the tape, particularly on Side B, and also my expertise is minimal. I have been trying to improve audio capture (I welcome any suggestions for improvement), also I am using 'ZX81 Tape Converter' for software (I'm sorry I haven't got my head round ZXSpecTape yet!). But I upload copies here of what I have, in case they are of use in answering your questions.
Escadrille - I was not able to capture. Pac-man - I am not sure if my Dad might have recorded this on to the end of the tape because it looks different to the over programmes in waveform.
Attached is which is just the .p files
A copy of the files with .wav files is here (183MB):
https://drive.google.com/file/d/1BTJnbj ... sp=sharing
Very interested if you're able to recover anything. Regards, Will
Hi Fruitcake, I asked my father about this, and he remembers using it but he's not sure yet where he might have got it from - he has suggested he might have got it from Toni Baker's book on Machine Code but he'd not sure. I'm going to send him a link to this thread so he might have some more info. On top of that earlier cassette I have come across a different one where the label suggests that it contains compiler for MC or GMSave. Link is below but there's a lot of distortion recorded into the tape - I don't know if you'd get anything useful from it.
Thanks for your interest in this, Will
https://drive.google.com/file/d/1WbLiR ... sp=sharing
(~60MB)